For patients with crooked or crowded teeth & jutting out teeth, Arora's Dental Clinic ,offers the Best Orthodontic / Braces Treatment in Delhi having all options like Tooth colored Ceramic braces, Lingual Orthodontics,Invisalign, Invisible braces etc by one of the Best Orthodontist in Delhi delivering great smiles you have been expecting.

Teeth that are not straight, crooked or out of place affect the way a person chews and talks and how the smile looks. Because they have unnatural spaces, crooked teeth are harder to clean and are more likely to have cavities. In addition, it is easier to brush and clean teeth that are straight. One method to correct this is to have Orthodontic treatment (braces). Braces improve your smile. They can do wonders for your self confidence and self esteem

Dental braces include brackets which are bonded onto each teeth. A special wire is attached and connected to the brackets. When pressure is applied on the brackets and teeth, the teeth move in the desired position. Sometimes small elastics, rubber bands and small springs are also used to apply more force are devices used in the desired direction. As small and gradual forces have to be applied on the teeth, the adjustments of braces have to be done once a month and hence the treatment duration is a bit long, generally 1-1 ½ yrs. Initially, there may be some feeling of tightness & discomfort. After a few days, when the teeth move into allignment , the discomfort lessens as you get used to them and as your teeth get straighter with time.
Types of braces available at "Arora's Dental Clinic"
Ceramic tooth colored Braces
Metal Braces
Lingual Braces
Invisalign invisible Braces
Ceramic tooth colored & metallic braces :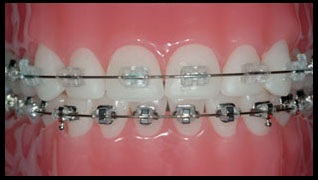 Lingual Braces :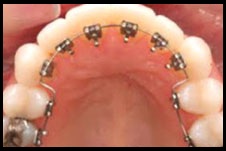 In lingual braces, the brackets are bonded onto the backside of the teeth making them invisible while in standard braces the brackets are cemented onto the front surface of the teeth.
Invisalign Invisible Braces :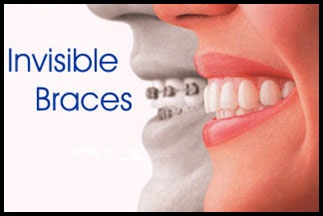 These are removable medical grade transparent plastic appliances which patient wears instead of brackets and wires to correct misalignment designed for minor teeth movement . You can remove them to eat, drink, brush and floss and in special occasions.
Case 1 :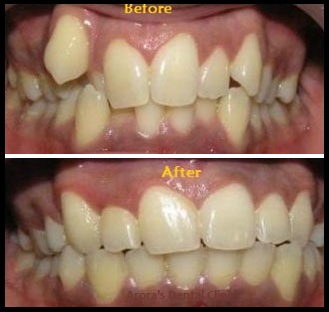 Case 2 :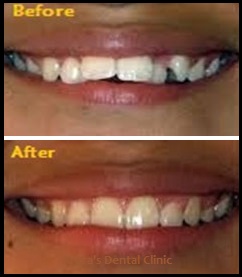 Case 3 :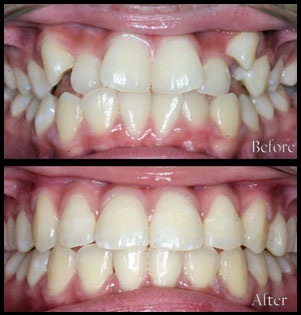 Case 4 :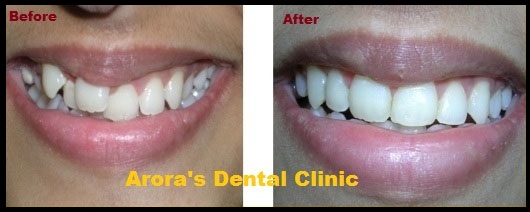 Case 5 :