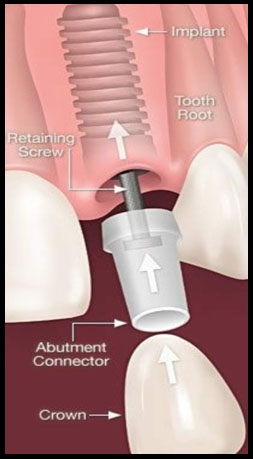 Dental implants are designed to resemble the form and function of the natural tooth. A titanium dental implant secured into the jaw acts as the tooth's root, and the crown attached over it serves as the tooth itself.

In the first step local anaesthesia is given and the gum is cut open to expose the jawbone. A small hole is drilled in the bone in the desired position and the selected titanium implant is placed . Over the next three months, the area heals and the implant fuses with the jawbone. Patients may undergo a second procedure in which a post, called an abutment, is attached or screwed into the implant. Over this a crown or prosthesis is attached. This can be done either at the same time when the implant is placed (Immediate Loading ) or after the area has healed (Delayed Loading).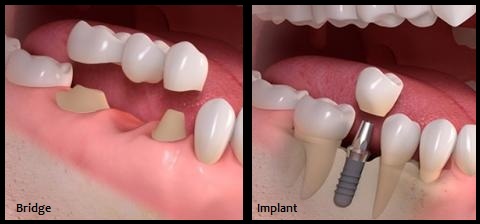 Benefits of Dental Implants:
If you don't have your own teeth to support a fixed bridge , then Implant supported bridge is the best option.
For tooth supported bridge we have to grind your supporting healthy teeth . When you replace your missing teeth by implants, your adjacent healthy teeth are not grinded . Hence the life of your teeth is increased when compared to tooth supported bridges.
Removable dentures are uncomfortable ; irritate the gums ; if they are loose they move while chewing giving undesired stresses on ur bone, they need to be removed , cleaned and stored properly; chewing efficiency is less. You don't have such problems in Implant supported fixed dentures.
Missing teeth replaced with implants give you confidence as they are more esthetic and function as natural teeth.
Disadvantages of traditional bridges over Implants :
Grinds down healthy teeth
Bone loss continues if oral hygiene is not maintained
Hence greater risk for cavities and tooth failure
Types of Dental Implants at Arora's Dental Clinic :
There are two basic types of implants available at our dental clinic. In certain cases, conventional or immediate implants may be followed by immediate loading of crowns and bridges known as immediate loaded implants.
Conventional Implants :
Conventional implants are applicable to almost anyone who is looking to replace one, multiple, all missing teeth with a permanent restoration solution.
Conventional implants are done in 2 stages normally in 2 visits about 3 to 6 months apart.
Conventional implants may be done for most types of bone conditions. If there is moderate or severe jaw bone loss, bone grafting may be recommended prior to dental implantation.
Immediate Implants :
Immediate implants are also known as one day or same day implants.
This is the case where dental implants are placed during the same time after teeth are extracted. Crowns, bridge, dentures may or may not be placed on during same visit depending on whether immediate loaded implants may be done.
Immediate implants are normally recommended only for cases with good jaw bone conditions.
Immediate Loaded Implants :
Immediate loaded implants are permanent or temporary teeth (crowns,bridges or dentures) placed during the same visit when the dental implants are placed in the jaws.
Immediate loaded implants can be done after conventional implants or immediate implants.
Immediate loaded implants are normally recommended only for cases with good jawbone conditions.
The type of dental implants selected will be dependent on the patients' specific needs and general dental condition. A panoramic x-ray and/or CT scan is usually required to evaluate the amount of bone, determine the space available and for a thorough examination to diagnosing the options best suited for each case.
Types of Implant Supported Teeth at Arora's Dental Clinic
Missing Single Tooth:
The single tooth implant restoration consists of three parts. Namely, the implant post which replaces the tooth root, the abutment which will support the crown and the prosthetic crown itself. The crown is either cemented onto the abutment or held in place with a screw. A single tooth implant with crown is one of the best permanent restorations.And more importantly, it does not require cutting your adjacent healthy teeth for bridging.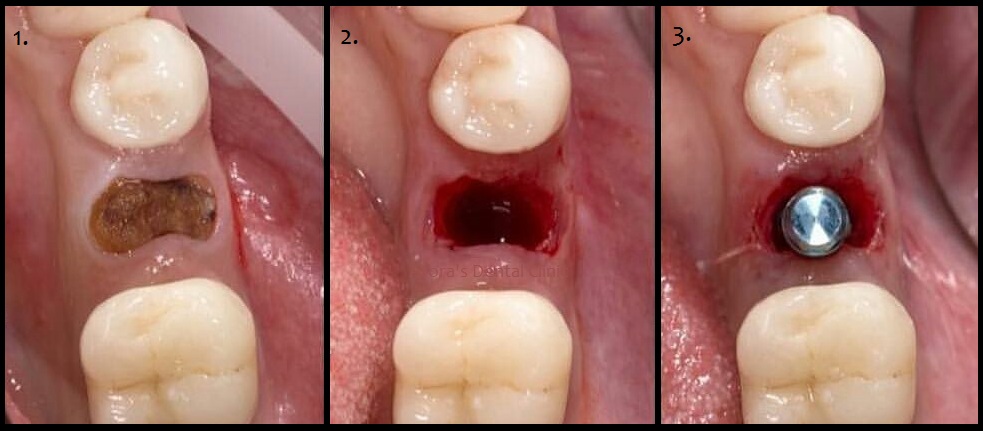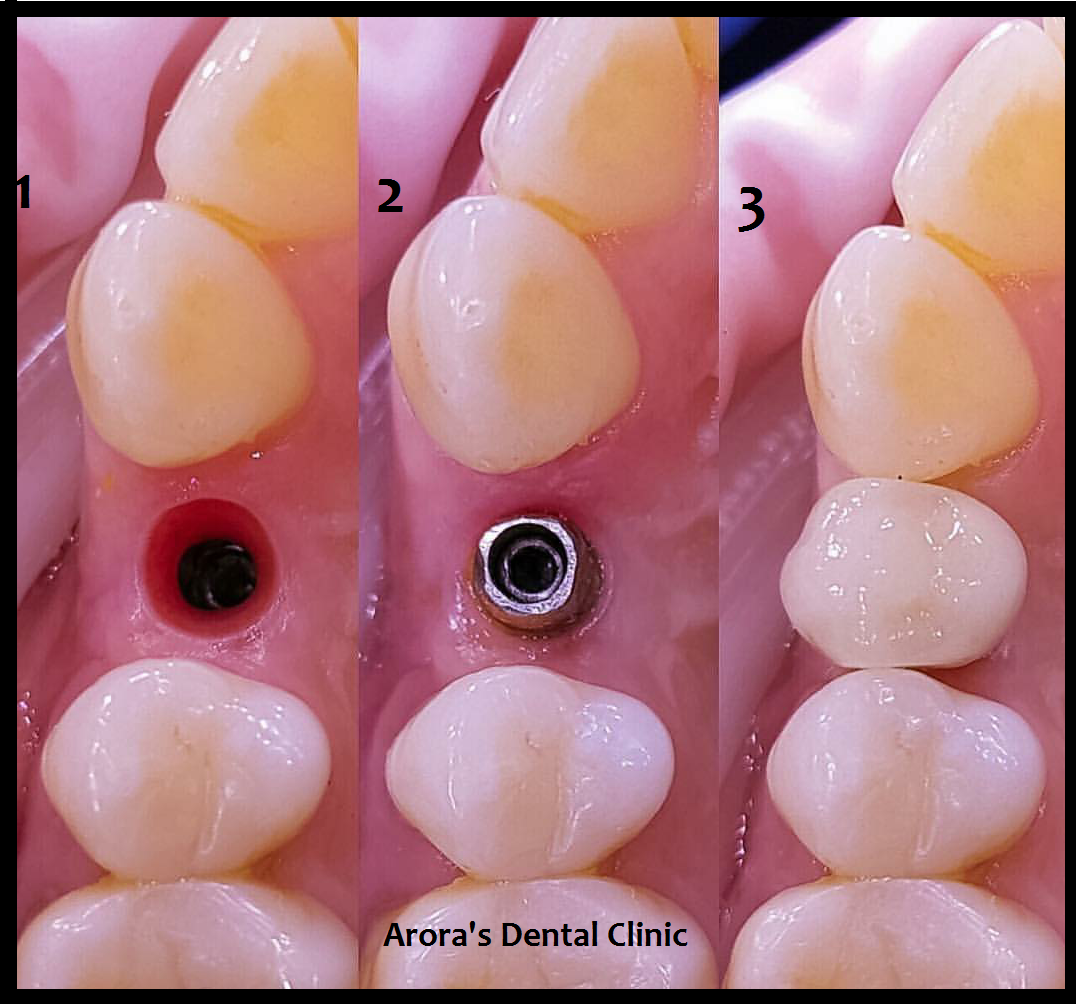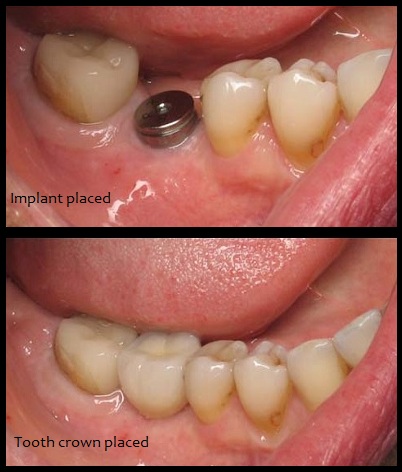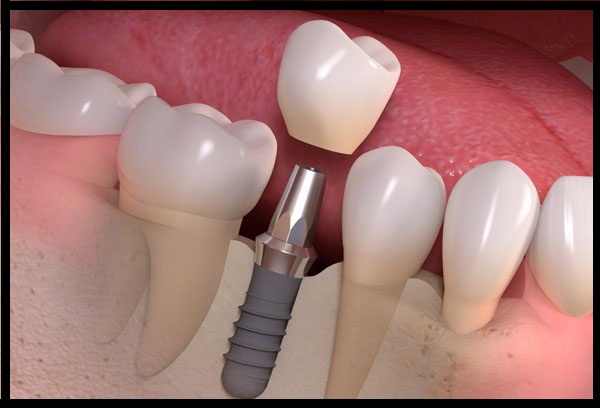 Missing Multiple Teeth:
If multiple teeth are missing in different parts of the mouth, several single tooth implants are good replacement restorations. If multiple teeth are missing within the same region, several missing teeth can sometimes be replaced with fewer implants because dental implants are stronger than the natural tooth roots. These are called Implant Supported Bridges.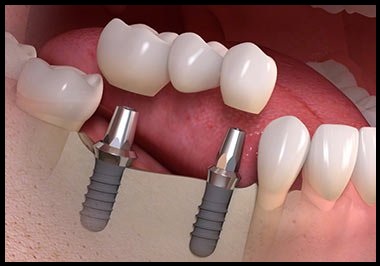 Case 1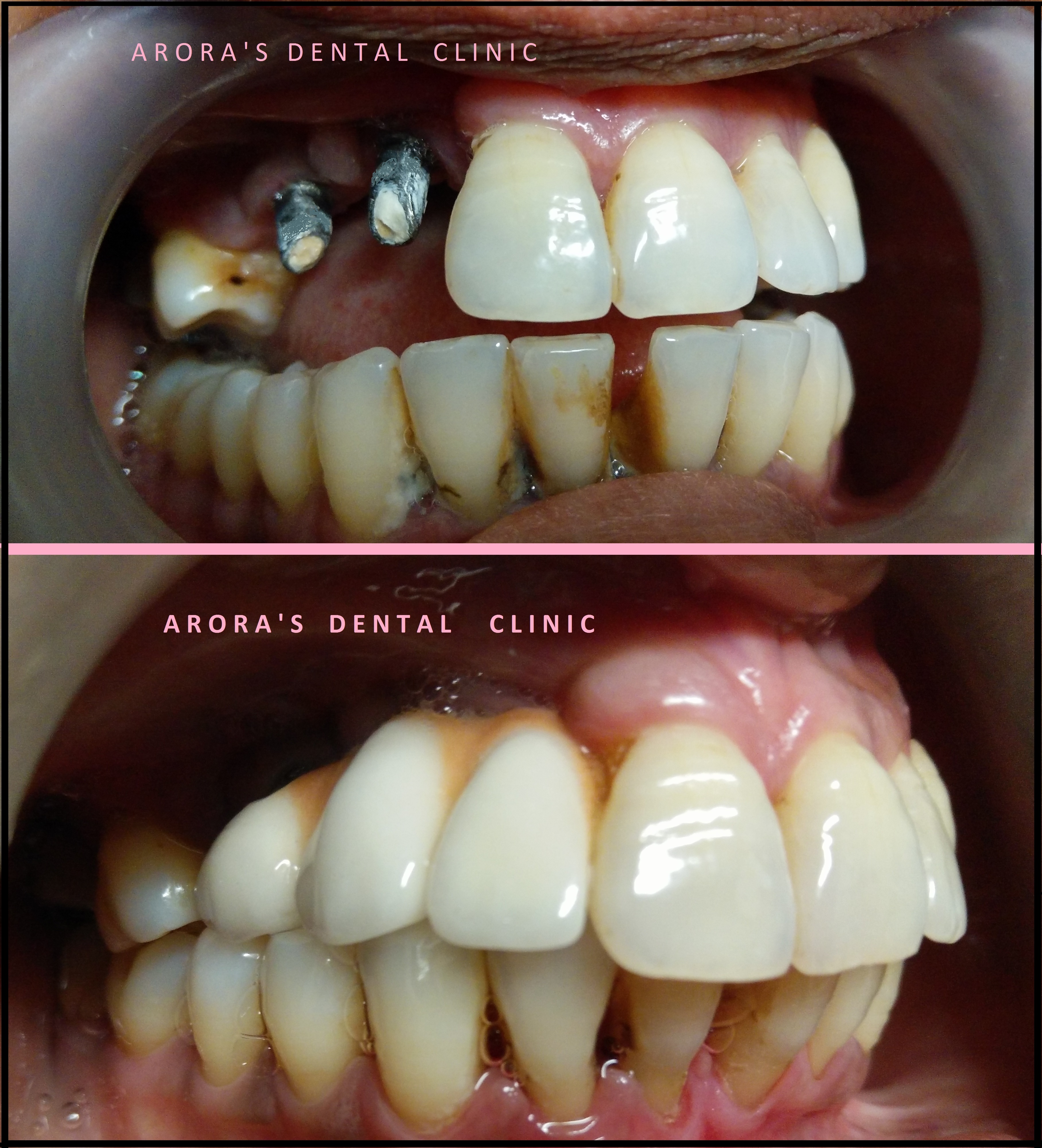 Case 2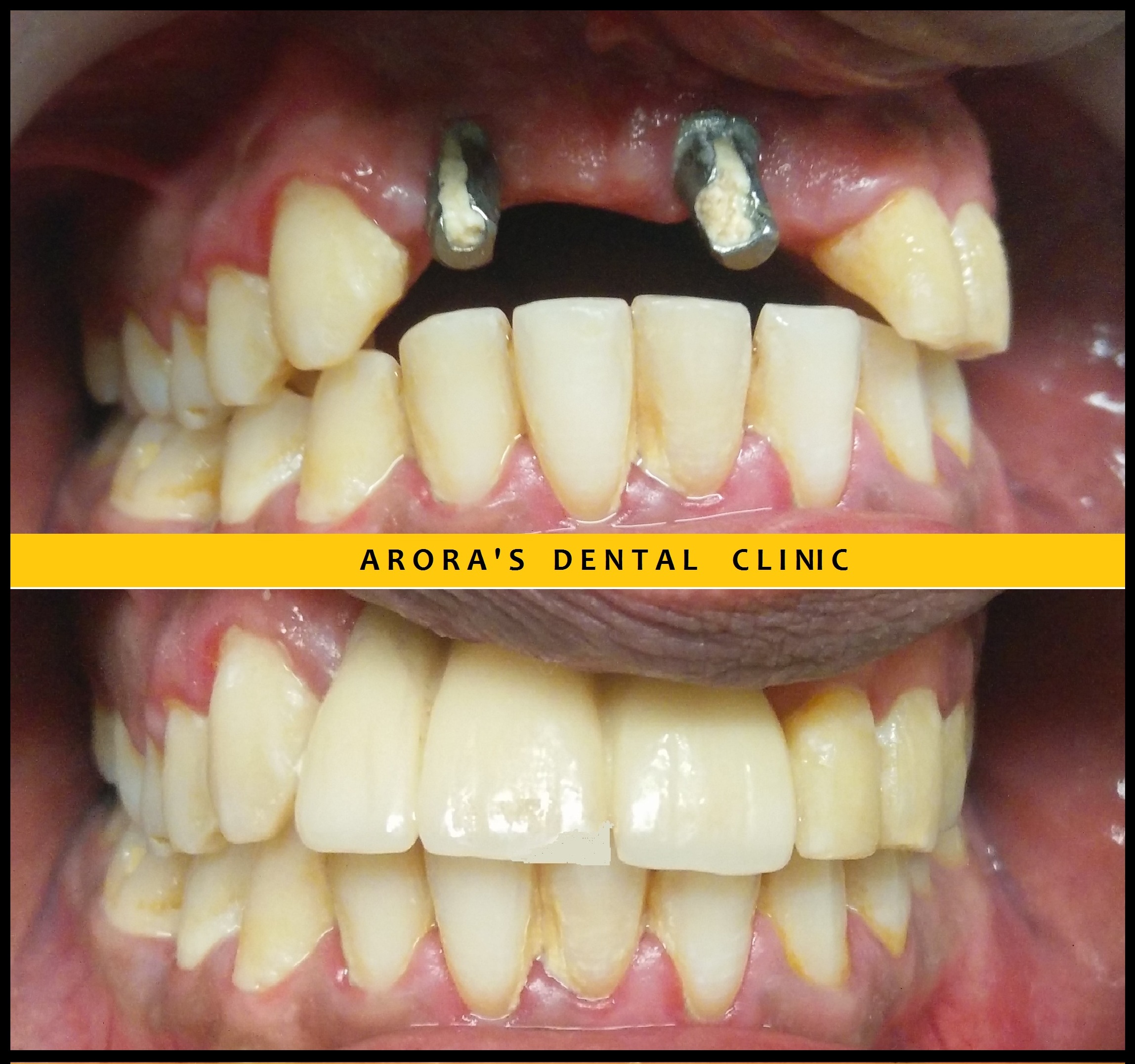 Case 3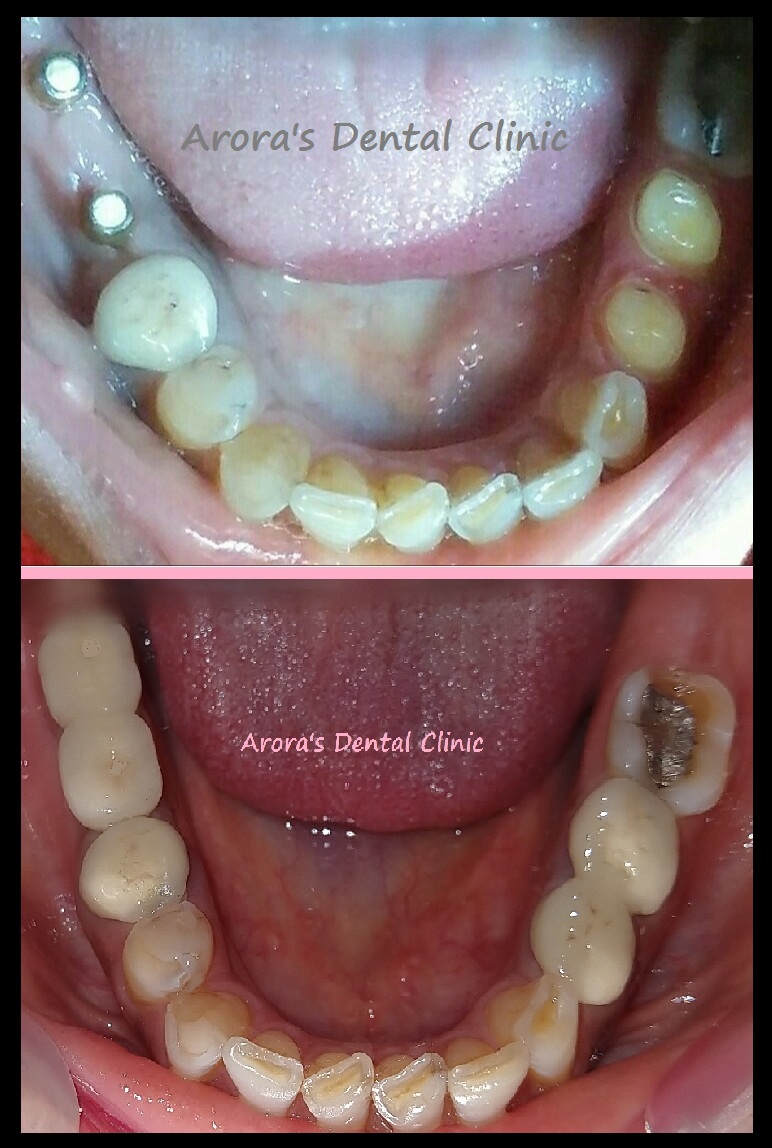 Case 4
Missing All Teeth (All-on-4 technology):
We strongly believe that all our patients deserve fixed teeth so we do not give any option of removable dentures supported on implants When all teeth are missing or in a condition that all teeth need to be replaced, there is a need for full arch implant reconstructions. Multiple implants are placed and implant supported fixed porcelain bridges are made
In patients without any teeth ,depending upon jawbone conditions and appearance of the patient , 4 - 6 equally spaced implants are placed in jawbone and a fixed denture / hybrid denture is made.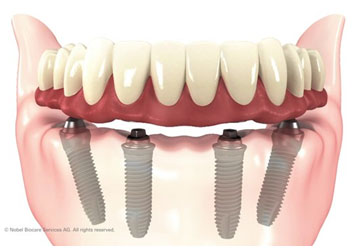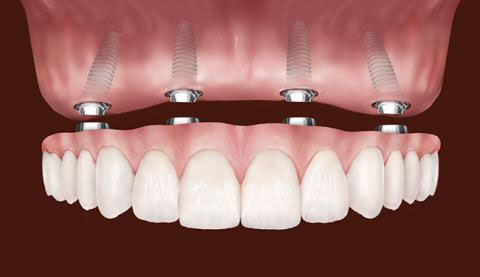 Hybrid Implant supported Fixed Prosthesis :
Case 1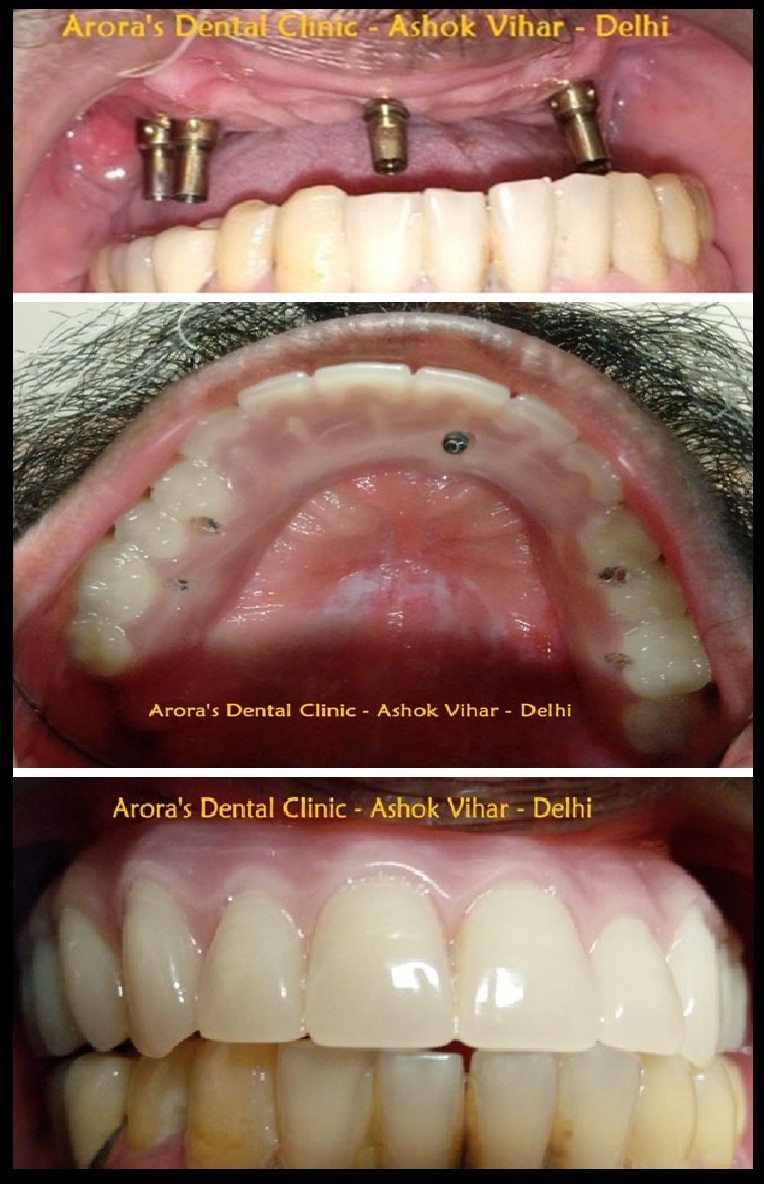 Case 2