Dentures are a set of removable artificial teeth that rest directly to the gums.Dentures provide a pleasant, natural looking smile.They are extremely durable.If well maintained, they should last from five to ten years.They correct problems with speech to chewing.
Types Of Dentures At "Arora's Dental Clinic "
Cast Partial Dentures
Complete Dentures
Over Dentures
Immediate Dentures
Flexible Dentures
Cast Partial Dentures :
Cast partial dentures are best for people with several teeth missing and whose adjoining teeth are too weak to hold a bridge. Partial dentures are artificial teeth attached to a metal framework .Clasps fit onto adjoining natural teeth. Partial dentures are placed to fill the gaps in your smile when only some of your teeth are missing. The dentures are anchored to your teeth with metal attachments. They maintain tooth alignment because they prevent your remaining teeth from shifting. They can also help prevent your loss of more teeth due to decay or gum diseases.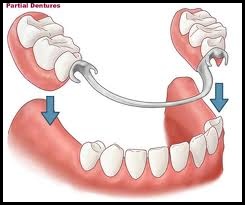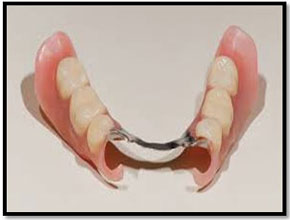 Complete Dentures :
They replace all the teeth on a jaw. They're best for those who have lost all their upper or lower teeth because of problems such as tooth decay or gum disease. They consist of a plastic framework (resembling natural gums) into which artificial teeth are set. The dentures fit directly on the gums.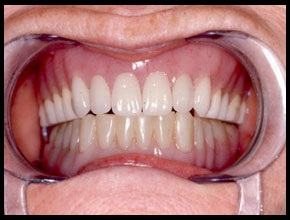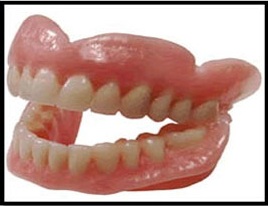 Over Dentures :
These are similar to Complete Dentures but not all teeth are extracted and they use two or more natural teeth for their support hence provide more stabilization during chewing .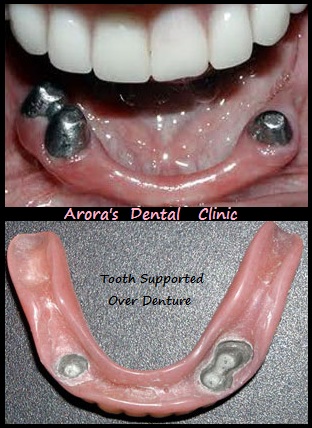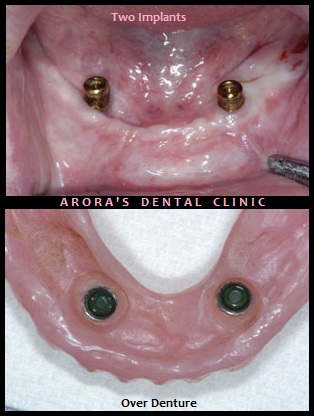 Immediate Dentures :
Immediate Dentures are placed immediately after extraction of your teeth . It may take a month for your bone and tissue to stabilize following the tooth extractions. After your bone and tissue stabilizes , permanent teeth can be placed.
Flexible Dentures :
The most recent advancement in dental materials has been the application of nylon-like materials in fabrication of dental appliances. This material generally replaces the metal, and the pink acrylic denture material used to build the framework for standard removable partial dentures.It is nearly unbreakable, is colored pink like the gums, can be built quite thin, and can form not only the denture base, but the clasps as well.

Since the clasps are built to curl around the necks of the teeth, they are practically indistinguishable from the gums that normally surround the tee Even though this type of denture does not rest on the natural teeth like the metal framework variety, the clasps rest on the gums surrounding the natural teeth. This tissue, unlike the gums over extraction sites, is stable and changes very little over time which keeps these Partial dentures stable and unchanging similar to the cast metal variety. This type of partial denture is extremely stable and retentive, and the elasticity of the flexible plastic clasps keeps them that way indefinitely.